** UPDATE : VERSION 1.5 IS HERE **

I've put my first ever Android App into the Marketplace, it's a tiny tool called 'MinFreeManager' that allows you to edit the 'ender the hood' settings for Androids automatic memory cleaning routines. It's based on the discussion and ideas found at XDA Developers.
It's not the kind of thing you should just check out for fun, it requires root access and can mess up your phone enough to require a reboot, so please make sure you have read the thread and understand what you are doing, I take no responsibility for anything that may go wrong.
You can find it on the marketplace by searching for my 'minfreemanager' or 'oldskool73′, or download it directly from the link below. (Anyone know how I create a link to it in the marketplace directly?) (Thanks Archie)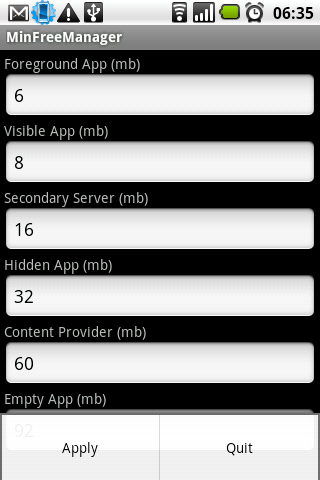 NOTE: Requires Android v1.6 v.1.5 or better and root access to run!
Download: